The Priest: A very versatile character, not only can it protect the party, his main asset is healing. This ability will keep the players alive while providing the Priest with experience to gain more treasure and gold. Don't overlook the protective benefits of Protection from Evil and Bless that will allow the other players to do addition damage on their turn. Finally, energy management is key when playing this character, there are only a few ways to gain extra energy so spend each point wisely.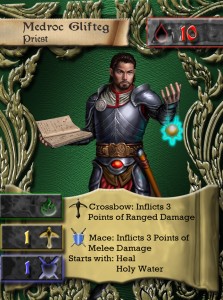 The Warrior:  He's not your typical brainless tank that sucks up damage for the party. He's a fierce hero that not only protects but can do major damage. The fighter comes with quite a few abilities and items. To start with, his main defense is to Parry Damage. For 2 points of energy he can avoid ALL damage from a single monster. He's great at doing damage to one monster but could get in trouble when attacking multiple monsters so always look for the monster with the most health and take him out.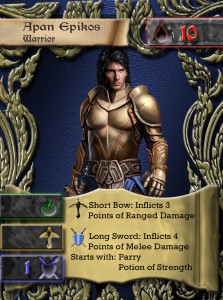 The Mage: This may appear to be the weakest character but don't let the the weapon damage fool you. The Mage wants to see as many monsters as possible, face up, on the board. The more there are, the more magical damage she can inflict.   The Mage starts off with the most powerful item in the game, the Fireball Scroll.  This card, when played, can do 20 points of damage in the right circumstances.  The fact that most monsters won't even touch the mage makes her near invincible.  (At least that's what the Mage would like you to believe)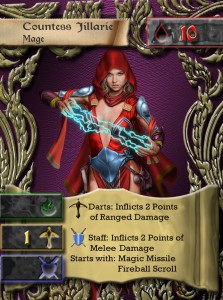 The Rogue: This is the wild card of the group. Even though she doesn't have to many party friendly abilities, she does have the most important card, Disable Traps. Don't overlook putting these cards in your deck or you party may be on the wrong side of some very nasty traps. The Rogue can do a little bit of everything but her specialty is Gold manipulation. The Rogue can use her abilities to obtain extra loot or even swap out lower gold values for higher ones. Pairing this with some good weapon upgrades and you have a force to be reckoned with.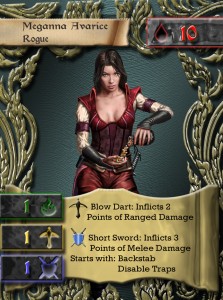 The Barbarian:  A strong fighter that can deal a lot of damage, but sacrifices protection.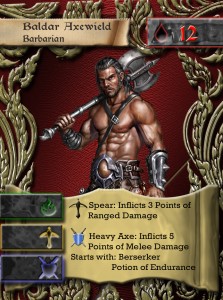 The Monk:  This character uses it's energy to do great damage to his enemies.  Deck management is crucial to successfully playing this character.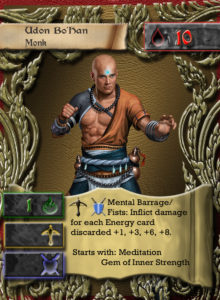 The Necromancer: Calling forth the powers of the dead, the Necromancer creates Skeletons and uses defeated monster to cause havoc in the dungeon.